Since 1996, FULL METAL JACKET™ has outperformed all other drop-in plastic bed liners. It's an economical, pure polyurea that provides a resilient, tough, abrasion-resistant seamless membrane that is water and chemical resistance.
Because it's pure polyurea, it's stronger and more user-friendly than other urethane bedliner products on the market today.
FULL METAL JACKET™ was one of the first high-pressure heated products for bedliners. The fast gel time allows high build on overhead and vertical surfaces. It can be applied in any temperate, including below freezing. FULL METAL JACKET™ can also encapsulate flotation foams, repair building and reduce noise. It's environmental friendly with 100% solids and no solvents or VOC's (Volatile Organic Compounds).
WTB Spray also offers other products for bedliners and other applications. FULL METAL JACKET -UB 100™ can be sprayed over old urethane bedliners and coatings without a primer. J-II™ is an economical pure polyurea thermoplastic elastomer designed for processing through medium pressure, heated, plural proportioning equipment. It can be applied in any temperate.
MJ-II™ sets faster than any of WTB Spray's bedliner products. It sets with seconds for higher tensile strength and elongation value.

Set time for WTB Spray polyurea bedliner coatings is 60 seconds or less. In a single application, high buildups of the polyurea can be sprayed without runs or drips, even on vertical surfaces and overhangs.

Download FMJ Tri-Fold Brochure
Watch  Full Metal Jacket™ (FMJ) Polyurea spray-on bedliner video:
Recommended uses are: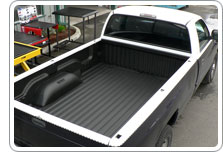 Bedliners for trucks, trailers, etc.
Abrasion resistant coating for dump trucks
Automotive undercoating
Encapsulation of flotation foam
Rust encapsulation on barges and tanks
Low-cost rigid mold making material
Non-potable water containment applications
Horse trailers or animal transportation walls and floors
Theatrical and theme park props protection